JULY 15 - AUGUST 27, 2021
WORKS AT CHART
The horse, and the culture that surrounds the equine are vehicles to communicate ineffable themes of nobility, fantasy, coming of age, gender, eroticism, identity, and the lived experience. Such various manifestations serve as a guide to the deeper values within humanity itself.
Eadweard Muybridge
Horses Galloping and Jumping (from Animal Locomotion, Plate 645)
, 1887, collotype print, 7 3/4 × 14 3/4 inches (19.7 × 37.5 cm)
In their published form, the sequence captures stop-motions images unlike anything prior to its conception. This sequential series was the genesis for the moving image as it was the first successful attempt at depicting the automic movement of the horse.
Susan Rothenberg
August
, 1976, acrylic and tempera on canvas, 38 x 52 1/2 inches (96.5 x 133.3 cm)
Susan Rothenberg utilized the horse in her work during the height of minimalist abstraction. Her horses became a watershed moment in painting, reintroducing figuration into a world that was dominated pictorially by non-representational imagery. Rothenberg's pared down equine iconography serve as primitive symbolic vehicles conjuring associations of power and movement.
David Wojnarowicz
Times Square Cowboy
, 1980s, silver gelatin print, 9 1/2 x 6 3/4 inches (24.1 x 17.1 cm)
After 1950, cowboys as a concept became adopted by the mainstream as a beacon of hypermasculinity. David Wojanrowicz's portrait of a sex worker in Times Square in the 1980s depicts a young male dressed in cowboy attire, a common garb for "hustlers" at the time, co-opting hypermasculine western aesthetic which were viewed as desirable to their patrons.
Tseng Kwong Chi
Monument Valley, AZ
, 1987, From the East Meets West self portrait series: 1979-1990 a.k.a. The Expeditionary Series, selenium toned silver gelatin print, 36 x 36 inches (91.4 x 91.4 cm), edition 2 of 9
Cowboys were main characters of the "American West", a place/era that has been culturally mythologized by both Americans and those from outside the country. Tseng Kwong Chi investigated this mythology in his series
East Meets West
, where he photographed himself in a traditional Mao uniform in front of famous Western sites of tourism. In
Monument Valley, Arizona
(1987), the artist photographed himself atop a horse in the famous national park, co-opting the image of a masculine lone ranger. It was his first time riding a horse.
Pat Passlof
Yel Sky Bk Hrs
, 1993, oil on canvas, 30 x 30 inches (76.2 x 76.2 cm)
Pat Passlof, known for her vibrant abstractions and dynamic brushstrokes, was a major figure in the AbEx movement in New York. Passlof began painting horses later in her career as a way to challenge her allegiance to abstraction and introduce figuration into her work. The horses also served as a meditation on early childhood memories of her father, a former mounted police officer.
Ron Tarver
The Basketball Game #1
, 1993, pigment ink print, 12 1/4 x 20 inches (31.2 x 50.8 cm)
Ron Tarver, in his acclaimed series
The Long Ride Home: The Black Cowboy Experience in America
, tracked the modern iteration of the Black Cowboy of the course of the 1990s. In
The Basketball Game #1
(1993) and
David's Last Ride
(1996), Tarver focused on two separate aspects of the culture — the urban cowboys of Philadelphia and the rodeos of East Texas.
Ron Tarver
David's Last Ride, 1996, unique c-print, 19 1/2 x 13 inches (49.5 x 33 cm)
Ron Tarver
Nathaniel Youngblood
, 1995, unique gelatin silver print, 11 1/2 x 10 3/4 inches (29.2 x 27.3 cm)
A major facet of equine culture is that of the American cowboy. The beginnings of cowboys in the United States were a result of the end of slavery in the later 1800s, where ranchers hired freed slaves to herd their cattle, as it was one of the only paying jobs open to men of color at the time. Tarver's series delves into the lives of black cowboys and their multifaceted forgotten narratives.
READ MORE
Patricia Cronin
Tack Room
, 1997-2021, mixed media, 96 x 126 x 114 inches (243.8 x 320 x 289.6 cm)
On view in the exhibition will be the fifth iteration of Patricia Cronin's
Tack Room
, a large-scale installation previously shown at White Columns (1998), Real Art Ways (1999), UB Gallery at University of Buffalo (2004) and the Armory Show (2017).
Tack Room
is a replica of the storage/locker room area in a horse barn, filled with a variety of equine accoutrements and paraphernalia. Within the 100 square foot room exist a whole assortment of riding equipment, centerfolds from erotic magazines, and other horse girl objects of obsession. The items in the installation are loaded with multiple meanings, highlighting the suggestive undertones that exist within much of horse culture.
READ MORE
Alison Rossiter
Rosa Bonheur, The Horse Fair
, 2003, light drawing on Ilford MGIV paper, 20 x 24 inches (50.8 × 61 cm)
Enthralled by the inherent unpredictable qualities of analog photography, Rossiter collects expired photographic paper, some of which dating back to the early 1900s. Rossiter to coaxes out the subtleties of shades and hues to reveal the residing within the paper in the darkroom by freehand drawing with a flashlight directly onto the gelatin silver paper. Referencing historical imagery of Muybridge and Bonheur's horses, Rossiter's
Light Horse
drawing series transpired from her lifelong admiration of horses.
Laurel Nakadate
Lucky Tiger (#246)
, 2009, type-C print and fingerprinting ink, image: 4 x 6 inches (10.2 x 15.2 cm), framed: 8 3/4 x 10 3/4 inches (22.2 x 27.3 cm)
In her
Lucky Tiger
series
,
Nakadate co-opts both western and pin-up aesthetics by photographing herself riding a horse in a cowboy hat and minimal clothing. She then asked male strangers to handle the prints with their fingers covered in ink, documenting a history of voyeuristic touch.
Dana Sherwood
In Love with a Horse
, 2009, single channel video, duration: 1:00, dimensions variable, edition 1 of 3
Dana Sherwood
Sight Equus Mongolia
, 2019, digital video, duration: 5:22, dimensions variable, edition 1 of 3
Dana Sherwood


Girl in the Belly of a Horse, 2019, watercolor on paper, 9 x 12 inches (23 x 31 cm)
Dana Sherwood's work explores the contact between humans and animals as a means to understanding culture and behavior. The animals in Sherwood's work assume the complex role of both subject and collaborator. In her film,
In Love With a Horse,
Sherwood
mines the trajectory of the "horse girl" trope, juxtaposing the steroptype in popular television and film with footage of herself taking care of her own horse.
Santi Moix
Untitled
, 2010, watercolor on paper, 8 1/4 x 10 1/2 inches (21 x 26.7 cm)
Santi Moix
Untitled
, 2010, watercolor on paper, 6 x 9 1/4 inches (15.2 x 23.5 cm)
Santi Moix
Untitled
, 2010, watercolor on paper, 6 x 9 1/4 inches (15.2 x 23.5 cm)
Moix's work is characterized by fragmentation, sensuality, and an acute consideration of form. Moix delves into sources of literature and art historical scenes for central themes to depart as reference points, coming to inform his fantastical abstractions resulting in the depiction of an ethereal world entirely of Moix's own creation. Moix references the famous Millbrook Horse Trials in the first two works, and the third work depicts the bull rodeos of Moix's native Spain.
Donald Baechler
A Friday Horse
, 2011, gesso, flashe, and paper collage on paper, 21 x 27 inches (53.3 x 68.6 cm)
Donald Baechler is known for his multi-media works depicting childhood imagery and nostalgic ephemera. Traces of grammar school primers, old maps, and children's drawings are collaged in the background, embued with motifs such as flowers, birds, and ice cream cones.
Sophia Narrett
Still Burning
, 2012, embroidery thread and fabric, 33 x 48 inches (83.8 x 121.9 cm)
Recalling epic 15th century depraved worlds of Netherlandish master Hieronymus Bosch, Narrett's meticulously detailed, painterly thread works depict fantastical scenes embedded with romance, violence, and sexual desire. Challenging what was once confined to the world of craft or "women's work," Narrett's unique approach pushes the medium to new limits.
Martine Gutierrez
Girl Friends (Anita and Marie 5)
, 2014, archival inkjet print, 9 x 13 1.2 inches (22.9 x 34.4 cm), edition of 8
Interested in the fluidity of relationships and gender roles, Gutierrez explores feminine dynamics and diverse narratives of intimact through self-portraiture in which she poses with mannequins as her counterpart. In
Girl Friends
, Gutierrez further expands on ideas of intimacy and fluid boundaries. Through the transformation of physical space and self-composure, these cinematic photographs depict desperate worlds paralleled by dichotomies of allure and sorrow, innocence and mischief, freedom and confinement.
Ellen Berkenblit
Lilac
, 2016, oil and paint stick on linen, 77 x 64 inches (195.6 x 162.6 cm)
Combining an Abstract Expressionist style with signature figurative characters of her own invention, Ellen Berkenblit's work explores kinetic line-work in her exuberant large-scale paintings, allowing for deftly constructed abstract forms, confident brushstrokes, and minimal color choice to animate the work.
Vincent Szarek
Oops
, 2016, bronze, chrome plates, 17 x 17 x 2 inches (43.2 x 43.2 x 5.1 cm)
Vincent Szarek's analysis of reflective objects delves into the individualization of mass production, correlating subjects of high and low art within American subcultures. Emblematic inconography from the time of the American gold rush on the West Coast, such as this chromed horseshoe, permeats this series of work, thus reflecting the artist's affinity to Americana.
Joe Andoe
RR #2 May 15, RR #2 May 20, 2018, oil on aluminum, 36 x 24 inches (91.4 x 64 cm)



Joe Andoe


RR #2 May 20, RR #2 May 20, 2018, oil on aluminum, 36 x 24 inches (91.4 x 64 cm)


Andoe's austere depictions of everyday subjects recollect memories and connections he has to the vastness of the Great Plains. Andoe's paradigmatic process employs a reductive technique. Utilizing thin paint and photographic-like rendering, Andoe begins by covering the surface with black paint, proceeding to wipe the material while wet to reveal the image beneath. In his recent work, Andoe underscores the possibilities of imagery by developing a cinematic vision of American mythologies embued with enigmatic and textural minimalism.
Shari Mendelson
Horse Askos
, 2018, repurposed plastic and mixed media, 10 1/2 x 3 x 8 inches (26.7 x 7.6 x 20.3 cm)
Shari Mendelson
Horse and Rider for Bill Traylor
, 2020, repurposed plastic and mixed media, 12 1/2 x 3 x 10 inches (31.8 x 7.6 x 25.4 cm)
Mendelson's sculptures are comprised of ordinary plastic beverage bottles which she collects in and around her Brooklyn studio. Using the unique aspects of the materiality's color, shape and patterning, she recycles this commonplace product into her sculptural objects. This body of work draws on ancient history, and her many visits to the Metropolitan Museum of Art. Through her process and subject matter, Mendelson converges civilizations and creates a composite of the present and the remote past.
Will Cotton
Cowboy
, 2019, lithograph with chalk hand work, 40 x 30 inches (101.6 x 76.2 cm), monoprint
Using a refined painterly technique inspired by the Hudson River School and traditional figure painting, Cotton depicts surrealistic tableaus full of overt and understated eroticism. Cowboys and unicorns have more recently appeared in Cotton's work— this piece captures the artist's subversive notions surrounding these subject matters.
Andy Woll
Faiz-Ullah
, 2019, oil on linen, 11 x 14 inches (27.9 x 35.6 cm)
Andy Woll
Ulloa
, 2020, oil on linen, 11 x 14 inches (27.9 x 35.6 cm)
Employing cues deriving from Modernist literary figures such as James Joyce, Woll's painting process follows a similar cadence to that of automatic writing. Woll allows for chance to inform logic, and in turn gives rise to an intuitive pictorial style. Often utlitizing an ebullient color scheme, his works employs sparce gestural applications of thick oil paint.
Jason Silva
7-21-19
, 2019, graphite on paper, 7 1/4 x 10 1/4 inches (18.4 x 26 cm), framed: 9 1/2 x 12 1/2 inches (24.1 x 31.8 cm)
Jason Silva
6-22-17
, 2017, graphite on paper, 7 1/4 x 10 1/4 inches (18.4 x 26 cm)
Silva's most prolific body of work, the graphite works on paper, are a ritualistic practice the artist began in 2009. Limited to four pencils of different weights, Silva produces interior scenes and object assemblages that evoke a cinematic sense of mystery. The title of each drawing corresponds with the date in which it was executed, marking a visual history of his image-making.
Matthew Constant
Pony
, 2020, graphite, colored pencil, and fixative on paper, 16 x 12 inches (40 x 30.5 cm), framed: 19 3/4 x 15 3/4 inches (50.2 x 40 cm)
Matthew Constant
Ponies
, 2021, graphite and fixative on paper, 11 1/2 x 13 inches (29.2 x 33 cm)
Matthew Constant's work deals with the quiet ephemerality of the everyday. Constant pulls references from walks around his neighborhood in Pittsburgh, noting shapes of stained glass windows or footprints in the snow, using these moments to create drawings that serve as a visual synthesis of his memories. These works, specifically commissioned for the show, display Constant's idiosyncratic drawing style and his attention to fine detail.
Lena Henke
Bei Klaus und Annette
, 2020, glazed ceramic, each: 18 x 8 x 8 inches (45.7 x 20.3 x 20.3 cm)
Henke's
Bei Klaus und Annette
is part of a new series of sculptures. Each is squeezed, twisted, or torqued, vacillating between forms resembling both a tree branch and horse hoof. Produced while meditating on her childhood growing up on a horse farm in Frankfurt, Henke's sculptures conjure deep emotive associations relating back to her adolescence.
Jaclyn Conley
Taming The War Horse (collage)
, 2021, oil on panel collage, 20 x 16 inches (50.8 x 40.6 cm)
Jaclyn Conley
Taming The War Horse
, 2021, oil on panel, 60 x 48 inches (152 x 121.9 cm)
Jaclyn Conley's collaged paintings source historical political imagery which she employs to deconstruct the horse into elements of abstraction. In this painting, Conley utilized an image of students gathering in Grant Park following the Kent State shootings in 1970. The students are seen climbing a monument of John Alexander Logan on horseback, in protest of the massacre and the Vietnam War.
VIEW SOURCE IMAGERY
Ann Craven
Horses Three (on Blue, with Orchids, February 4, 2021)
, 2021, watercolor on Arches paper, 140lb, 30 x 22 inches (76.2 x 55.9 cm)
Moved by ideas of memory, time, and change, Ann Craven produces lushly colored, sensuous paintings, whose central motifs of animals, flowers, the moon, and stripes serve as a temporal record of her life and practice. Building upon what came before, she continually re-visits her compositions in an attempt to copy them exactly. While understanding the impossibility of this pursuit, Craven embraces the inevitable differences between each canvas as evidence of our constantly shifting existence and temporality.
Giovanni Garcia-Fenech
Study for Falling Horse 2
, 2021, flashe on linen, diameter 24 inches (61 cm)
Giovanni Garcia-Fenech
Study for Falling Horse 3
, 2021, flashe on linen, diameter 24 inches (61 cm)
Garcia-Fenech's subjects continually vascillate between figuration and abstraction. However, the foundations of the work remain the constant - consisting of an entirely improvised composition (painted in one sitting), a considered restricted palette, and keen attention to negative space.
Dominique Knowles
Magdalene
, 2021, oil on linen, 12 1/8 x 24 1/4 inches (30.8 x 61.6 cm)
Dominique Knowles
Chiron
, 2021, oil on linen, 12 1/8 x 24 1/4 inches (30.8 x 61.6 cm)
Dominique Knowles illustrates the nuanced complexities that reside within the companionship between humans and animals. While he attributes his horses' foreshortened side-profiles and burnt hues to those of cave paintings, they also serve as modern expressions of an age-old dichotomy in which the paintings become metaphors for queer desire, a quest for intimacy.
Jessie Makinson
I do not need another spur,
2021, graphite on paper, 11 x 7 inches (27.9 x 17.8 cm)
Jessie Makinson subverts a patriarchal past from a female perspective by reconstructing historical narrative precedents. Makinson constructs for the motifs of her selection, often depicting erotic scenes in which women are perilous active participants rather than passive altruists. Motivated by jealousy, narcissism, and desire, her characters embrace the act of conspiration while exuding sexual power and disrupting expectations. Makinson constructs an exquisite coalescence of narratives resulting in a surrealistic, chaotic reassessment of the collective human consciousness.
Anthony Miler
Not Titled,
2021, acrylic and pigments on canvas, 18 x 21 inches (45.7 x 53.3 cm)
Miler deconstructs the geometries of living things and discernible environments, reassembling them to create images that simultaneously feel strange yet familiar. In
Not Titled
, Miler employs his visual deconstruction in
depicting the underside of a horse hoof. Fluid shapes occupy a shared space in which the palette is elevated through subdued use of color.
Justin Liam O'Brien
A Horse misus'd upon the Road (After MacMonnies "The Horse Tamers", Prospect Park)
, 2021, oil on canvas, 36 x 36 inches (91.4 x 76.2 cm)
O'Brien's work evokes tenderness and affection through the soft blending of line, color, and composition. This work, based off of MacMonnies' sculptural monument in Prospect Park, turns the symbol of a man on a horse into a meditation on queer strength and desire.
Adrianne Rubenstein
Floating Horse
, 2021, oil on panel, 34 x 24 inches (86.4 x 61 cm)
The crux of Adrienne Rubenstein's work is contingent on exploring emotional and often personal histories.
Floating Horse
evokes Rubenstein's whimsical and playful approach, as well as her signature lush color pallette.
Wendy Red Star
Hairy Alligator Akbaléaashíiupashku, (Lakota), 1860s, NMAI, "In The Spirit Of Green Skin"
, 2021, acrylic, graphite, kitakata paper, marble paper, 22 x 30 inches (55.9 x 76.2 cm)
Apsáalooke (Crow) artist Wendy Red Star references the perpetual importance of the horse to Plains Indian Tribal nations
.
Sourcing imagery from historical ledger drawings, Red Star employs this mode of "horse getting" by sketching horses and reclaiming them within the scope of her own work. This act of requisitioning also serves to free the equine from institutions that appropriated them to denote their measures of wealth and status. Horses have played an important role in Red Star's life as well: as a child she spent considerable time with a small group of horses on her family's ranch on the Crow Reservation in Montana. Red Star asserts her place of honor as a horse getter in the continuing tradition of Apsáalooke warriors and artists, connecting a vibrant tradition to an ongoing pursuit of history and identity.
James Ulmer
True Love
, 2021, flashe on canvas, 35 x 42 inches (88.9 x 106.7 cm)
Ulmer views his paintings as abstractions and employs simplicity to open up interpretation and communicate universal terms. Ultimately, what Ulmer seeks to create is a simple visual language in which his figures, animals and ambiguous shapes become symbols that can be decoded, similarly to the nature of cave painting interpretation.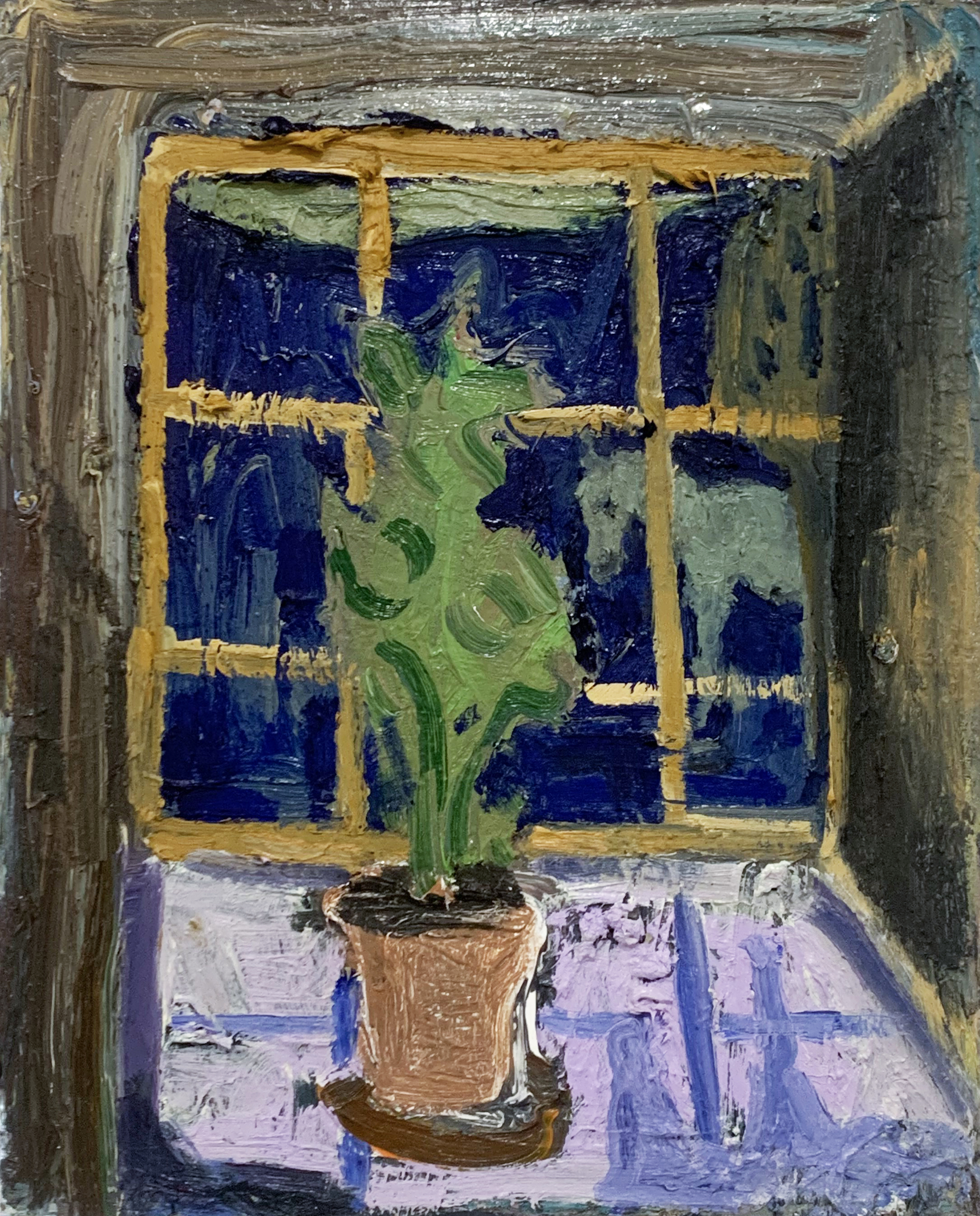 Dan Schein
Plant, Window, Horse
, 2021, oil on canvas, 20 x 16 inches (50.8 x 40.6 cm)
Dan Schein
Mystical Magical Unicorn Beast
, 2021, oil on canvas, 24 x 30 inches (61 x 76.2 cm)
Dan Schein conveys in an inner unrest revealed through dynamic, painterly brushstrokes. The figures depicted are often characters residing on the fringes of society, exposed literally or metaphorically through tones of ambivalent ambience embedded with an underlying sense of ironic humor.
Shona McAndrew
Casey, 2021, acrylic on canvas, 72 x 48 inches (182.9 x 121.9 cm)
McAndrew is known for paintings and sculptures that depict women in their personal spaces. Drawing from a variety of historical and personal references, the artist renders fleeting yet intimate moments of vulnerability in the daily lives of women seldom portrayed in art history.
for more information, please contact:
info@chart-gallery.com
IMAGE COPYRIGHT/COURTESY INFORMATION: -
Pat Passlof: ©/Courtesy the Milton Resnick and Pat Passlof Foundation, New York
Susan Rothenberg: © Susan Rothenberg/Artist Rights Society, courtesy The Collection of Beth Rudin DeWoody
David Wojanrowicz: © the Estate of David Wojnarowicz, courtesy Private Collection, New York
Tseng Kwong Chi: © Muna Tseng Dance Projects, Inc. New York., courtesy the Estate of Tseng. Kwong Chi
All others: © the artist
We would like to thank the artists and the following galleries/collections for their generosity:
Rubber Factory, New York
The Collection of Beth Rudin DeWoody
The Estate of Tseng Kwong Chi
Eric Firestone Gallery, New York
Yossi Milo Gallery, New York
Leslie Tonkonow Art + Projects, New York
Denny Dimin Gallery, New York
Ryan Lee Gallery, New York
Anton Kern Gallery, New York
SGJ Fine Art, New York
Almine Rech Gallery, New York
Tibor de Nagy, New York
Bortolami, New York
Maruani Mercier, Brussels
Karma, New York
The Green Gallery, Milwaukee
Lyles and King, New York
Monya Rowe Gallery, New York
Sargent's Daughters, New York